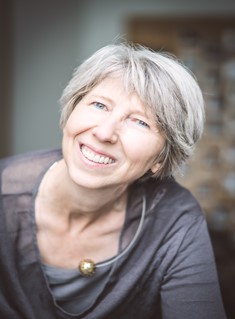 My name is Danielle Borremans. When I settled in Brussels at the age of 27, the city was not unknown to me. From the village in the Pajottenland region where I grew up, we regularly went to Brussels for shopping, culture and entertainment. I studied in Leuven, where I obtained a master's degree in Economic Sciences. Meanwhile, the link with Brussels remained: during the summer holidays I did student jobs there and in 1986 I got my first job. For my employer, I moved shortly afterwards to the United States and to Germany.
At the end of 1990, I settled permanently in the Brussels Region. I immediately felt at home. The pleasant flat overlooking a park contributed to this, but it was more than that. I find it fascinating to live in a city where more than 170 languages are spoken, where three quarters of the population has foreign roots, and where European policies are created. Being married to a Dutchman has led to a blending of cultures in my personal life as well.
We liked the rental flat very much. However, this was offset by the fact that the landlord did not invest much in maintenance or renovation. And so we started looking forward to owning our own property, which we would renovate neatly and furnish to our taste. At that time, Brussels real estate was still affordable. On the other hand, the interest rate for mortgages in 1990 hovered around 11 per cent.
We invested in a building comprising several appartements. As landlords, we had a clear mission: to provide good service and manage our investment in a sustainable way. My husband was in charge of technical monitoring and quality assurance, while I took care of financial management. As we were dealing with small flats, most of our tenants were single occupants. Turnover was quite high and we were busy. The positive thing was that we came into contact with people of diverse background, age, culture, professional occupation, etc.  I realised more than once that the simple human contact between tenant and landlord can be enough to eliminate prejudices on both sides.
Diversity can be a driving force for change or awareness. I came to this conclusion thanks to my experience with the project of DoucheFLUX, a non-profit organisation serving homeless people in the Brussels region. From late 2013, I have been actively involved in the launch of their service, first as a fundraiser and until now as an ambassador for their operation. I have become more aware of the huge social challenge of poverty.
I have come to realise that there is a link between housing and people's well-being. The fact that the housing situation of a growing number of families in the Brussels region is downright poor is largely due to the inadequate supply of affordable, liveable and accessible rental housing. Since the needs are clear to all of us, it is only a matter of creating the supply. Due to conflicts of interest, a single company, individual or government agency cannot possibly take on this task. However, a partnership of individuals and organisations with a common objective as a binder could achieve this mission. I became convinced of this after attending a postgraduate course in Cooperative Entrepreneurship at KU Leuven in 2019. Since then, I have been dreaming of setting up a mixed real estate cooperative. The thesis* I wrote for the postgraduate was about the social impact this kind of cooperative company could generate.
In recent years, I have done extensive analysis on all topics related to real estate and housing. I set up an information system to structure and track the data. The website whatt.eu was created to clarify my proposal of real estate cooperative. The website's blog platform provides an opportunity to interact with people and organisations who want to get involved in improving the supply of rental housing in the Brussels region, thereby increasing general well-being.
Engaging the general public in the development of rental property is unusual. The idea needs some time to mature. The trilingual website www.whatt.eu offers the opportunity to form a network of individuals and organisations willing to reflect on it. I am already looking forward to many responses!
*Would you like a copy of this dissertation in pdf format? Send an e-mail to This email address is being protected from spambots. You need JavaScript enabled to view it. to get it, specifying the language (Dutch or French) in which you want to read the document.