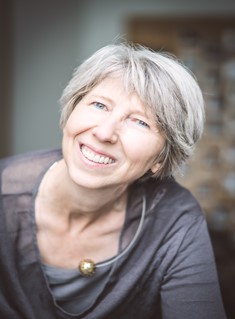 My name is Danielle Borremans. When I came to live in the Brussels region more than thirty years ago, I immediately felt at home. The pleasant flat with a view of a park contributed to this, but it was more than that. Living in a city where more than 100 languages are spoken and where three quarters of the population have foreign roots has always fascinated me. As a convinced European, I find it interesting to be able to live and work in the city where European politics is made. The fact that I am married to a Dutchman has obviously intensified the cultural mix in my personal life!
In the early 1990s, we invested in real estate in Brussels. As owners of flats, our aim is to offer a good rental service and to manage our investment in a sustainable way.  As an economist with an analytical mind and good administrative skills, I logically took charge of the accounting and financial management. My husband was responsible for the technical follow-up and ensured the quality of the property. As we were dealing with small flats, most of our tenants were single people.  The rotation was quite high and the workload was heavy. The positive side was that we came into contact with people of all backgrounds, ages, cultures, professions, etc. I realised more than once that the simple human contact between the tenant and the landlord can be enough to eliminate prejudices on both sides.
Diversity can be a driver for change or awareness. I came to this conclusion thanks to my experience with the project of DoucheFLUX, a Brussels-based non-profit organisation that fights homelessness.  From the end of 2013, I became actively involved in the launch of their service, first as a fundraiser and, until today, as an ambassador for their work. I became more aware than before of social issues such as homelessness and precarity. Gradually I came to realise that I too could make a contribution to solving these problems.
The fact that the housing situation of a growing number of people in the Brussels region is blatantly inadequate is solely due to the insufficient supply of housing that responds to the needs of the inhabitants. The demand is well known, the requirements are clearly defined. It is only a matter of creating the supply. Due to conflicts of interest, a single company, individual or public body is not up to the task. However, a cooperative of individuals and companies with a common goal as a binding force would be capable of this mission. I became completely convinced of this after taking a postgraduate course in cooperative entrepreneurship at the KU Leuven. I am very specifically interested in the mixed cooperative. The dissertation* I wrote for the postgraduate training was on the social impact that this type of real estate cooperative can generate.
I am aware that this is an innovative approach to the real estate market and that the idea needs some time to mature. The trilingual website www.whatt.eu offers the possibility to form a network of people and organisations willing to think about this issue. I look forward to receiving a lot of feedback!
*Would you like a copy of this dissertation in pdf format? Send an e-mail to This email address is being protected from spambots. You need JavaScript enabled to view it. to get it, specifying the language (Dutch or French) in which you want to read the document.
Picture taken on 7/4/2019, municipality Saint-Gilles/Chaussée de Waterloo. At the end of 2020, 5,313 homeless and poorly housed people were counted in the Brussels Capital Region. More info (dutch language): https://brusshelp.org/images/Telling2020_vdef.pdf  More info (in french): http://www.brusshelp.org/images/Denombrement2020_vdef.pdf